Split Tourist Information
For many people one of the essential criteria when choosing their vacation destination is language. Language barrier can be a something that can make your vacation much more challenging than you were hoping for. Just think about it, simple things like finding a cab, trying to explain to driver where to go, buying stuff, ordering food in restaurant…you want those things to go as easy as possible.
Don't worry, coming to Split or Croatia in general will not be a big lingual challenge for you. When you come to Split whether you have chosen private accommodation, hotel or B&B your host or receptionist will be fluent at least in English. Even if you are not from English-speaking country every tourism involved Croatian will make effort and learn at least few basic expressions in your language.
For more complicated conversations you can always use your smart phone or tablet since most of the accommodations have free wifi to ease up you information access.
And in most of the hotel rooms and in private accommodations you will be welcomed with magazine Visit Split that has many essential informations that will help you organizing your time in Croatia.
What to do in Split
If you are wondering what to do in Split trust us you will be amazed how easy is to fulfil your free days no matter how short or long your vacation is. Once you are settled it is time to explore history behind the walls of Diocletian palace. If you didn't buy any of Croatia or Split travel guide you can get all the informations you need in one of the Split tourist information office. In each office you can get informations about historical sites, ferry lines, guided tours, bus or train schedule…anything you can think of.
Tourist info office is a good start point on your exploring adventure because there you can take Split tourist map free of charge and organize your itinerary. Each map has specially marked historical sites so it is easy to organize what to do next. In each of the two split tourist info offices you can also find all the informations about daily tours from Split. You can just take one of the numerous brochures from the shelfs or visit some of the travel agencies in the town and you will find out all the details.
If you like to do a research on your own easiest way to do it is to visit Tripadvisor Split (the most complete tourist info page) and to read other people's suggestions; boat tours, activities, historical sites, we are sure you will find something that suites you best.
Depending on length of your stay we suggest you TOP 5 things to do in Split:
1. walking tour of Diocletian palace (be an emperor for a day and edmire what once was Diocletian's summer house)
2. lazy day on the beach sipping cocktails ( you can take few of days such as this one is  )
3. one day tour to nearby islands (if you want to experience Mediterranean in its essence visit one of the islands-Hvar, Brač, Vis…)
4. one day tour to National park (find refreshment in hot summer days in one of Croatia's National parks: Krka waterfalls, Plitvice lakes or Kornati)
5. activity & adventure tours (vacation is great time to stay active, feel adrenaline rush rafting on Cetina river, kayaking around Marjan hill, canyoning…)
At the end of your each day spent in Split you should pemper yourself in one of the numerious small city center restaurants. Take one of the house specialities and glass of carefully chosen wine that will compliment your meal. After that gastronomical experience take a walk through the narrow streets, follow the music beats and you will find a warm up place for your night out. One of the most popular areas is Dosud street, located in heart of the palace. Playing great music and serving good coctails you will have an insight how local people are spending their hot summer nights. Bars in town are working till 2 am so after that it is time to find a place where party never ends and that is on Bačvice beach. There are few clubs that will challenge your dance skills from dusk till dawn.
Most Popular Attractions inside the Palace
Most popular island attractions
Don't miss your chance to visit most popular destinations on Split islands. Read below why you should definitively put these places on your must visit list.
National Parks near Split
Looking to spend a day outdoors in breathtaking natural setting. There are two national parks usually visited from Split on day tours. Find out what you can experience while visiting the parks and choose the one which best suites you.
Besides Krka and Plitvice National parks, Croatia has six more national parks you may decide to visit. Learn more about Croatian National Parks here.
Swim by the waterfalls! One of the most remarkable natural landmarks in Croatia is Skradinski buk, a waterfall system with travertine formations spreading over 800 meters in length. It is the top attraction of Krka National Park and we take you trough its many trails.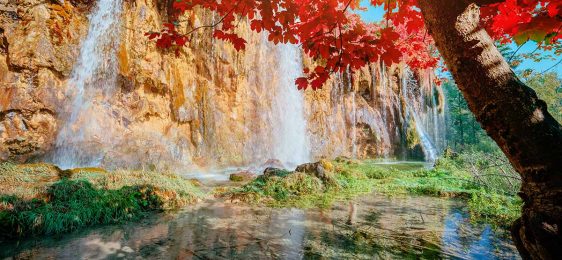 The lakes are beautiful at every time of the year, but during the spring, summer and early autumn, the vegetation makes the place spectacular. Many people prefer to visit the park on a hot summer's day to enjoy the cool breeze created by the splashing water.
Most popular day trips from Split
There are many day trips from Split to choose from depending mainly on your interests, hobbies and needs. In our catalog you can choose from hand picked tours selected in different categories to more easily find the tour or activity you are looking for. However, there are certain tours which have become signature to Split and its holiday offer. Learn about these tours and find out what you can experience on them.
Get to Know Split
Looking for a best way to spend a day and night in the city of Split. Take a moment and look into some of the guides we have prepared for you to help you experience our beautiful city to the fullest.