Blue Cave & Hvar Tour – Travel Guide 2019
Here's a scenario: It's the summer, you're in Croatia, and you've heard that island hopping is 'the thing to do.' To be frank, we don't disagree, and in fact, we encourage just that. Lucky for you, we have a tour that will fit all of your island-hopping needs. Join us, and we'll take you to the famous Blue Cave, Hvar town, and five islands in one day.
So, what's all the buzz about the Blue Cave and Hvar island anyway? Lucky for you, we've prepared a crash course.
Everything you need to know about the Blue Cave
The Blue Cave, also known as the 'Blue Grotto' or 'Modra špilja' in Croatian, is situated in a small bay called Balun on the east side of Biševo island, some 5 kilometers away from the better-known island of Vis, and namely the town of Komiža.
What makes this Croatian cave attraction so unique is that it formed due to seawater eroding limestone, a rock Biševo island is wholly composed of. Thanks to the sunlight's reflection off of the white seabed, which creeps through the opening of a vault at the top of the cave, a mesmerizing blue hue fills its capacity. Experts say that the best time to visit is between 11 am and 2 pm when the cave is at its bluest.
You can thank Baron Eugen von Ransonet that you're able to visit the cave at all. He was not only the first person who described and painted the famous cave, but he also encouraged that an artificial entrance is made that was large enough for small boats to enter. Otherwise, the cave was only accessible by diving. The people listened, and in 1884, a proper entrance was built. Now you get to enjoy it, too.
The Blue Cave today is 24 meters longs, 10-12 meters deep, and around 15 meters high, while the entrance to the cave measures just 1.5 meters high and 2.5 meters wide.
Depending on when you visit the Blue Cave, it's important to know that there may be a decent waiting time for your boat. Summer months could see boats waiting up to an hour, while the spring and end of the summer season could see you enter almost immediately.
But can you blame the tourists? It is one of Croatia's prized possessions!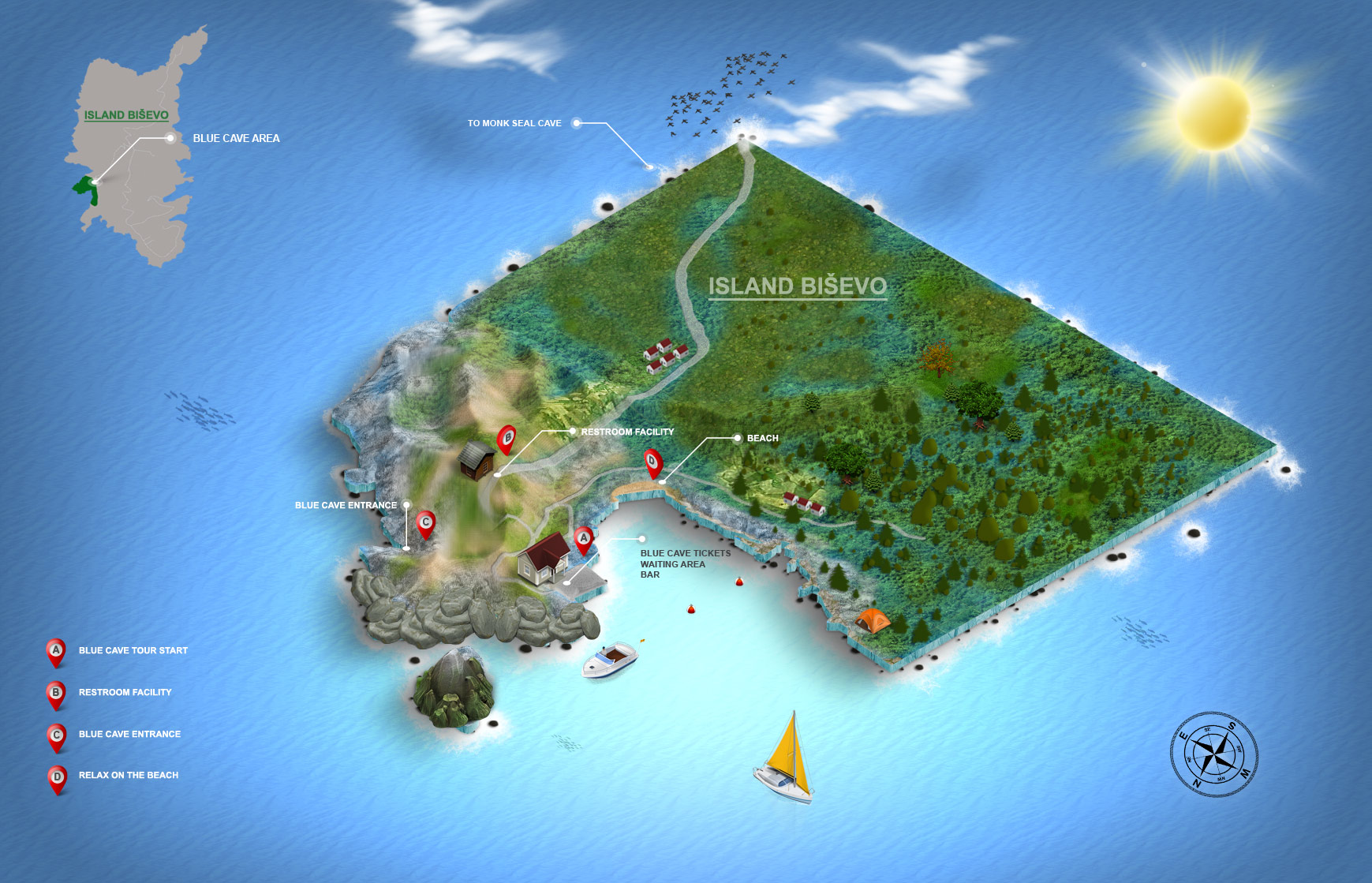 However, because no one should wait too long without amenities, visitors can enjoy a cafe and toilet facilities near the ticket office.
Once your time is up and your boat can enter the cave, it can be allowed inside for 5 to 15 minutes maximum.
Everything you need to know about Hvar Island
Hvar is one of Dalmatia's most popular islands, and one of Croatia's best-known destinations. Written up in travel magazines for its glitz, glamour, and sheer authenticity, it's really no wonder why Hvar is the center of attention. Known as Croatia's sunniest island that is no stranger to million dollar yachts, packed catamarans, and everything that entails the quintessential Mediterranean holiday, Hvar is also a sanctuary for history buffs and those looking to dig deeper beyond the surface.
For starters, Hvar is the birthplace of organized tourism in Europe, which began in 1868. It is also the island with the most UNESCO Heritage in the world, is home to the oldest municipal theatre in Europe, which was founded in 1612, and to top it all off, the Stari Grad Plain on the island traces back to 4th century BC!
While Hvar is also famous for its symbolic peak, the Fortica Fortress, another perk to Hvar is that it is an island with easy access to a number of other islands. The Pakleni, for example, is a stunning chain of islands just off the coast of Hvar town. After a quick speedboat ride, you can bask in the beauty of its bays, which boast some of the best restaurants in the region to boot.
Consider your Blue Cave and Hvar 101 crash course complete.
What can you expect on our Blue Cave and Hvar tour?
Here is what we have in store for you.
We'll meet you on the Split Riva for a morning departure (7:30 if you're traveling in the peak season, 8:00 in the pre and postseason). By speedboat, we'll make our way to the first stop of the tour – the Blue Cave on Biševo island. In just under two hours, you'll have the chance to explore the iridescent blues of the cave, with a database full of photos to show your friends back home.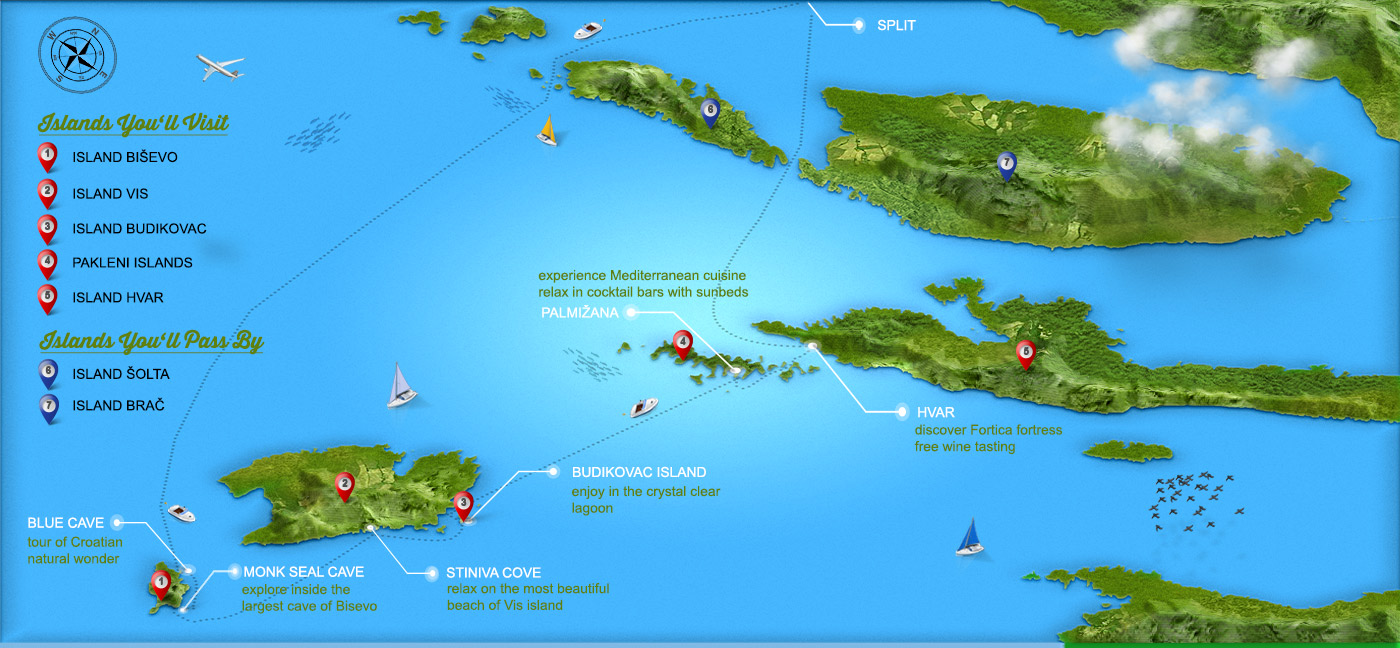 From the Blue Cave we'll whisk you away to yet another cave, but this time, it's the longest cave on Biševo island. Coming in at 160 meters, we'll explore the Monk Seal Cave, which, as you might have guessed, is dedicated to the Mediterranean Monk seal, one of the most endangered mammals in the world. While there are no Mediterranean Monk seals left in this cave or the world at all, you will get to enjoy the grandeur of the cave – and you can swim!
Just around the corner from the Monk Seal Cave is Stiniva Bay, which might ring a bell – it was voted the best beach in Europe in 2016! A 600-meter-long pebbled beach that is enveloped in by vertical cliffs, here, you'll have the chance to sit back, swim, and soak up some Vitamin D.
Get your snorkels ready, because from the best beach in Europe we head to the bluest lagoon, Budikovac, which is also the only island in Dalmatia with a single inhabitant.
Because we're sure you'll have worked up an appetite by now, our next stop is the Pakleni islands and specifically the tourist resort of Palmižana. You'll have two hours to spend at your disposal where you can swim, lounge, or have a bite to eat at one of the many prized Palmižana restaurants. As if you haven't had enough yet, consider this two hours in paradise.
But that's not all.
We couldn't end this excursion without stopping in Hvar, which is precisely the cherry on top of this tour cake. You'll have time to visit the top of the town, or namely the Fortica Fortress, where you can overlook the Pakleni archipelago and miles of sea in the distance. Get lost (but not too lost) in the narrow alleyways of Hvar town, fall in love with the colorful shops, funky artists, vibrant history, and best of all, enjoy a free wine tasting!
Arriving in Split at 7 pm, you'll be back just in time for dinner in the Dalmatian capital.
What should you pack for the Blue Cave and Hvar?
While you don't need to bring much, there are some necessities for our tour.
Can you swim in the Blue Cave?
You may have seen photos of happy-go-lucky travelers swimming in the Blue Cave, which prompted you to visit this attraction in the first place. While we don't want to disappoint you, we do have to be the bearer of bad news: no, you absolutely cannot swim in the Blue Cave. But we promise this minor, minor detail shouldn't be a factor in whether or not you visit the cave at all.
Plus, with us, you get to swim in some pretty spectacular spots along the tour that absolutely make up for it!
What if you want to take your own boat inside the Blue Cave?
There is one straightforward answer to that question: NO. Due to pretty obvious safety reasons, only official boats can enter the Blue Cave. And we don't recommend attempting to bring your own, as that never ends well.
What if you get hungry while visiting the Blue Cave and Hvar?
While bringing snacks is encouraged, we know that can't hold you over forever. You'll have a few places to recharge on this tour, and specifically in Palmižana and Hvar town. While we're in Palmižana, you'll have the chance to sit down for a proper meal at one of the many restaurants. Or in Hvar town, you could grab something quick from the bakery or grocery shops.
Recall, there is also a cafe by the Blue Cave ticket office in case you have some time to kill while waiting for your turn!
When is the best time to visit the Blue Cave and Hvar?
While there is never really a bad time to visit the Blue Cave and Hvar island, the warmer seasons, like spring and summer, are ideal times to visit; you will be on a speedboat with many chances to swim, after all.
Best way of getting to the Blue Cave and Hvar from Split?
To be honest, there is really no other way to hit the Blue Cave or five islands in a day unless you're traveling by speedboat. So why not travel with us?