Blue Lagoon Croatia
Blue Lagoon in Croatia is not your usual blue lagoon created by the coral reefs found around tropical islands forming a shallow lagoon with the crystal clear blue sea inside. There are no coral reefs in Croatia but that doesn't mean that there are no blue lagoons. Blue lagoons in Croatia are usually formed between a number of small islands which are usually separated by the shallow lagoon between them that we like to call blue lagoons.
Since the Adriatic sea around the Croatian islands is always crystal clear the shallow water inside the lagoon is immaculately clear so you can easily see all the way to the bottom of the sea. You can even see all kinds of fishes and other sea animals from the lagoon bottom.
Because the sea inside the lagoons is always "clean enough to drink" you will sometimes find different kinds of sea urchins on the bottom. They are a natural sign that the sea of the lagoon is clear, healthy and not polluted. The sea urchins are not dangerous because they slowly move on the bottom floor. You should only take care not to step on them because of their spikes but since the sea is so clear it is definitively not a problem. You can easily see them even without the snorkeling masks.
Blue Lagoon Map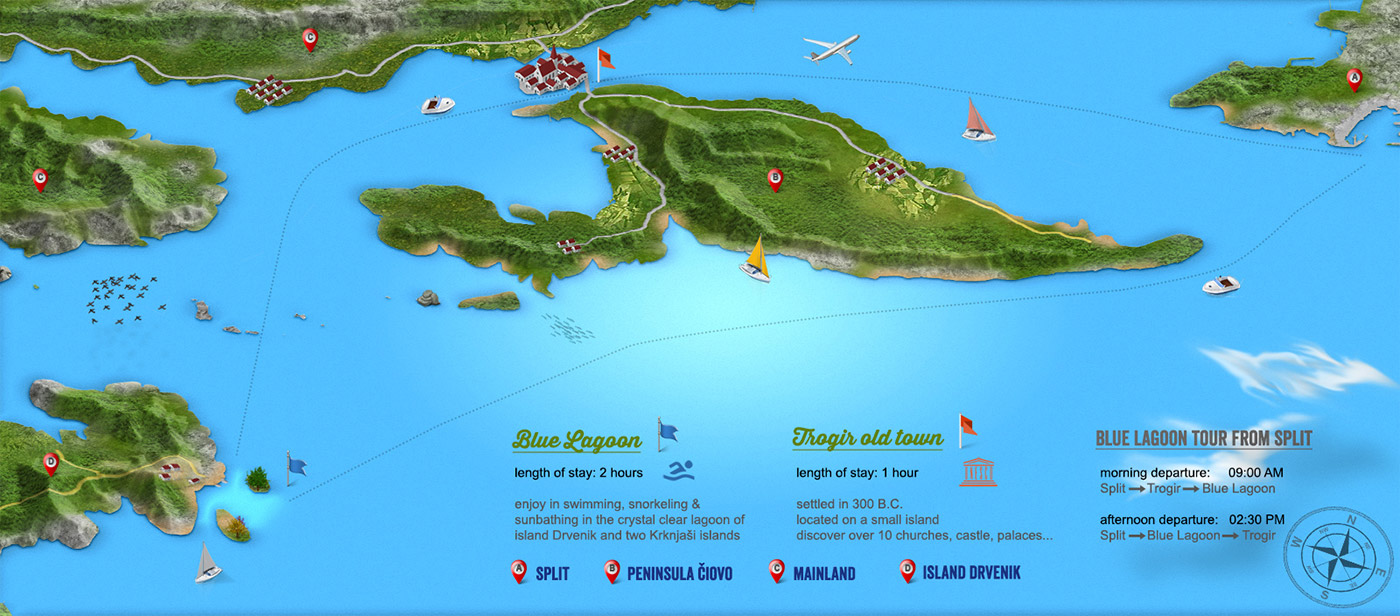 The Blue Lagoon between Drvenik and Krknjasi islands
On our half day tour from Split we take you to the most famous and the most popular Blue Lagoon in Croatia, the blue lagoon of Drvenik and Krknjasi islands. When you enter the lagoon on our Blue Lagoon and Trogir tour you are immediately enchanted by the color and the transparency of the sea around you.
You will be pleased to hear that we provide the snorkeling equipment on our tour which will give you the perfect opportunity to experience the natural world of the Blue Lagoon. Since this is a perfect location for diving, swimming or snorkeling, don't miss the opportunity to take a memorable experience back home.
This area is known for dolphins, so keep your eye peeled and your camera ready when you come with us to this amazing location.
Blue Lagoon Tour from Split Croatia

On the tour to the Blue Lagoon between Drvenik and Krknjasi islands we depart every day from the promenade in Split at 09:00 in the morning and at 02:30 in the afternoon. The tour includes swimming and snorkeling inside the blue lagoon and a visit to the historical old town of Trogir.
---
You can visit Blue Lagoon Croatia on our Blue Lagoon and Trogir tour from Split
Blue Lagoon Tour Itinerary
09:00/14:30*  Departure from Split Riva
09:40/15:10*  Arrival in Blue Lagoon
11:40/17:10*  Departure from Blue Lagoon
12:10/17:40*  Arrival in Trogir, free time
13:45/19:00*  Departure from Trogir
14:15/19:30*  Arrival to Split
*half day tour-operates in the morning and afternoon
---
Duration: 4 Hours (approx.)
Destinations/Attractions: Blue Lagoon, Trogir, opportunity to spot dolphins