Game of Thrones Split – Ultimate Fan's Guide
If you are a real Game of Thrones fan then you know that Croatia is a home not only of a King's Landing – world's famous city of Dubrovnik but many coastal towns and villages. Many Croatian ancient cities became Westeros in last few years. Croatia is a country soaked with a history and fascinating cultural heritage so no wonder it was chosen as a crucial filming location of the show. Going 230 km northwards from a main capital of seven kingdoms you should take some time on your vacation and stop off in a former slave city of Mareen – another pearl of Mediterranean, Split town. Maybe you won't find there any dragons these days but will surely be amazed with breathtaking view and historical locations in this area.
Whether you are hard core fan of HBO TV show or just occasional watcher don't miss the opportunity to visit Split, cultural and industrial center on this part of Adriatic. Leave the everyday world and follow the path of Daenerys and her army. Become a part of this great show at least for a day.
Split is very well connected with other GOT filming spots in area. If you want to complete your mapping and visit Trogir town, Kaštel Gomilica, Šibenik, Žrnovnica village, and Klis fortress, Split can be base to explore the rest of filming spots in its area.
VISIT THE POWERFUL MAREEN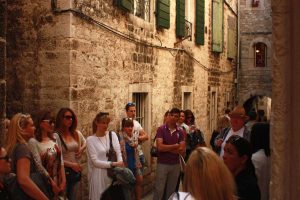 Luckily for you winter is not coming to Croatia, you can start pack your swimsuits and flip flops because it is always sunny on the Adriatic. Dalmatian coast's stoned cities, fortresses and photogenic surroundings provide ideal backdrop for filming TV show based on fictional history and characters. Indulge in your own slaves liberation through marble streets of Diocletian palace. Most of the scenes in Split were filmed inside this famous Palace, home of Roman Emperor Diocletian. Palace is full of theatrical menace and its halls provided great atmosphere for shooting this kind of TV show. Popularity of basement in the old town grows year after year and there are so many guests who don't want to miss the opportunity to visit Daenerys' throne room, place where she kept her dragons locked up for a while and wander the streets that became the former slave city of Mareen. An ancient buildings, old narrow streets and antique surroundings made a perfect choice for the queen Daenerys.
KLIS FORTRESS
Only 20 minutes driving northeast proudly stands Klis fortress , rich historical and cultural site which has become an essential part of visiting Split and surrounding areas. These days Klis fortress is more popular since GOT fans recognize it as a city from HBO show but it was always well known stronghold of the Croats from 6th century.
Most of the GOT fans go to visit it only because of the TV show but leave it with memorable impressions. Fortress turns out as a perfect choice to spend some time while on vacation even if you are not familiar with Game of Thrones story. Anyhow, hardcore fans of the show can't wait to meet the place where Daenerys Targeryen marched to free the slaves. In last few years exhibition with photos and stories from the set was added in one of the inside rooms.
[ess_grid alias="got-klis"]
HOW TO GET THERE
Visiting Klis village from Split town could not be easier. You can go with a car and follow directions all along the way or join a local bus line number 22 from the stop in the old town, near National Theater. Note that this bus line is available only during the working days, from Monday to Friday and takes you straight to the fortress.
MELISANDRE'S BATHING SCENE
One of the rising hot spots surely is Zrnovnica village, close to the old mill in the mentioned village. Zrnovnica finds its spot under the stars after Daenerys servant, Melisandre, took a river bath with her friends. This picturesque settlement attracts visitors with beautiful nature, fresh air, green forest and in last few years with GOT story.
Finding this spot can be little complicated so we suggest to take one of GOT tours from Split and make sure that you are on the right place. That's where GOT tours will benefit you.
ŠIBENIK
Šibenik is one of the new cities added to the GOT filming locations for the 5th season. The old part of the city became a part of the city of Braavos. Šibenik is historical town protected by four fortresses: fortress of St. Michael, St. John, St. Nicholas and Subicevac fortress, also well known for its UNESCO protected Cathedral of St. James and City Hall. All of these sights you can spot in GOT 5th season. National Park Krka, few minutes driving from Šibenik, was backdrop to nature scenes in 4th season and it is perfect location to spend day outdoors,near refreshing waterfalls.
[ess_grid alias="got-sibenik"]
TROGIR
UNESCO protected town of Trogir, impressive due its Venetian architecture was perfect location for trading city of Quarth. Its Monastery of ST. Dominic was used for few filming locations of Quarth and streets of Kastel Gomilica was fisherman's village where Arya Stark was selling her oysters in city of Braavos. Kastela's mysterious fortification was chosen for a set of Season 4th.
GOT SOUVENIR SHOP IN SPLIT
Before you even step in one of mentioned cities you will start one of GOT themed tours which are mainly entertainment. We bet you will fall in love with Croatia and want to explore a places that have no connection with Game of Thrones at all.
Passing through old medieval streets in UNESCO protected palace of Diocletian you would found few Game of Thrones souvenir shops where you can find officially licensed HBO merchandises. Located in several stoned blocks, shops offer T-shirts with main characters, POP figures, posters and plenty of themed stuff dedicated to the HBO show. Choose between wide range of souvenirs and find a perfect gift for your friends. The best way to prepare for the long winter is by stocking GOT hoodies. For coffee and tea lovers there are GOT mugs, while beer lovers can choose one of pitchers for the whole company.
[ess_grid alias="got-split"]
Take a photo on the Iron throne or go for a selfie with Tyrion Lannister and Jeffrey Barratheon's crown in local surroundings.
Game of Thrones Themed Tours
With Game of Thrones fever increasing after Season 4th, GOT fans have been flocking to Dalmatian towns and Split and Dubrovnik tourist agency launched a specialized tours of the main filming locations in the town and nearby area. City full of museums, old buildings, ruins and famous basement was ideal background for filming popular TV show. City that grew from the palace of Roman emperor to one of the most popular tourist destinations on the Adriatic will spread it hands and welcome you warmly.
Explore the city through the eyes of favorite Game of Thrones characters and take a pictures at popular TV show locations. Follow the footsteps of Khaleesi accompanied with local tour guides , all completely obsessed with Game of Thrones TV show and learn more of the history of ancient Croatian town. Discuss facts about HBO TV show with other travelers and GOT fans while admiring incredible architecture.
Discover why production of world famous TV show picked Croatia as the setting for the most important cities of Westeros. Join one of city tours and unveil a different face of Split by visiting memorable scenes from award wining HBO show. Doesn't matter which house is your favorite, in Split you can find plenty od spots that make you feel like you are a part of Westeros.
While in Split you can choose between 2 Game of Thrones tours: walking tour in the old town where guide would show you all secret spots of city of Mareen or full day tour where you can also spot Zrnovnica and Klis fortress. Our popular tour https://www.daytripsfromsplit.com/product/game-of-thrones-tour-split-its-summer-time-but-the-winter-is-coming/ reveals all locations where TV show was filmed in and around city of Split. This tour provides you combination of 2 tours rolled in one.
During your summer vacation, winter will come while exploring every single corner of Mareen and surrounding area. While waiting for the next season,let's remember all characters from last 7 years and refresh our memory exploring filming destinations along the Adriatic. Travel to the suburbs, walk the path to the top of fortress of Klis and end your GOT tour with authentic dinner. Taste local wine, fruit and snacks of domestic ingredients while enjoying a view of the whole city. Visit the legendary landmarks featured in HBO show such as breathtaking fortress of Klis and experience amazing views just like cast members.
---
Who will win the famous Iron Throne? We still have to find it out. Theretofore, enjoy discovering hidden GOT spots and keep searching for locations where you have an opportunity to capture background from popular TV show. Or join one of the city tours and act like real king and queen while knowledgeable guides lead you through the area of ancient cities.
No matter which one you choose, you would surely find some places where every day is a Westeros day.