Krka Tour – Travel Guide 2019
Krka. You either know it as one of Croatia's national parks, or you've seen photos of its famous waterfalls posted on the pages of social networks. Either way, Krka is one Croatian destination you can't miss.
But if you're planning on visiting the park soon, you might want to direct your attention to us for a few minutes. Welcome to "Krka 101" – our how-to guide for doing the park right, coupled and with a tour that will have you hopping, skipping, and jumping for joy through one of Croatia's most magical natural wonders.
Let us begin.
Everything you need to know about Krka National Park
So, what's all the buzz? Krka National Park is the seventh of Croatia's eight national parks, which was proclaimed as so in 1985. Located within Šibenik-Knin County, the park covers a total area of 109 square kilometers, featuring preserved ecosystems, unmatched natural value, flora (1022 plant species to be exact), fauna, and, of course, Croatia's most famous waterfalls.
Namely, thanks to the Krka river, which runs 72.5 kilometers long to be the 22nd longest in Croatia, we are lucky to have the park at all. A natural and karst phenomenon, the park features seven travertine waterfalls which bring the buzz from around the world.
Krka also counts various cultural and historical monuments, like the Franciscan Monastery which dates back to 1445, the 1st century AD military camp, or its Medieval fortresses which have roots from the 14th century.
This national park even boasts 470 kilometers of cycling routes and 14 different hiking trails for visitors to enjoy!
But best of all, you can experience the park with experts thanks to our Krka National Park tour from Split.
What can you expect on our Krka National Park tour?
Did you know that Krka National Park is just over an hour away from Split (90 kilometers), making it one of the best day trips you could plan from the Dalmatian capital?
But why rush to get to Krka when you can experience one of Croatia's best coastal gems along the way?
Our tour begins as every tour should – by treating you like royalty. Namely, our air-conditioned and deluxe vehicles, equipped with WiFi might we add, will meet you for a morning departure from Split. Roughly 30 minutes later, you'll be in Trogir, a UNESCO World Heritage site since 1997. A captivating coastal town with over 2,300 years of tradition, Trogir's old town is wrapped within medieval walls. Inside, you'll find buildings dating back to the 13th and 15th centuries, like the famous Cathedral or the Duke's Palace. And then there's the Kamerlengo fortress, which is a 15th-century charm that can be found at the end of Trogir's waterfront promenade. Not unlike Split, Trogir's Riva is clad in coffee-drinkers and sunglasses, and the cobblestoned streets whisk you through a maze of archaic alleyways, with a new story to be told at every corner you turn.
After you've fully whizzed through the sights of Trogir, back on the road we go, to Krka. While Krka National Park has five official entrances, we'll be visiting the park through Skradin, a small riverside town admired most by Microsoft founder Bill Gates.
But one of the best things about Skradin is that it is also one of the entrances to Krka National Park. By accessing the park from Skradin, you get to enjoy a scenic boat ride through the Krka canyon, which ultimately sails into the most famous waterfall in the park – Skradinski buk. The boat road takes about 20 minutes.
Once you've reached Skradinski buk, you'll embark on a guided tour of the popular waterfall. After you've finished, you'll have just over two hours to explore the park as you wish – by swimming, eating, or hiking the park's paths.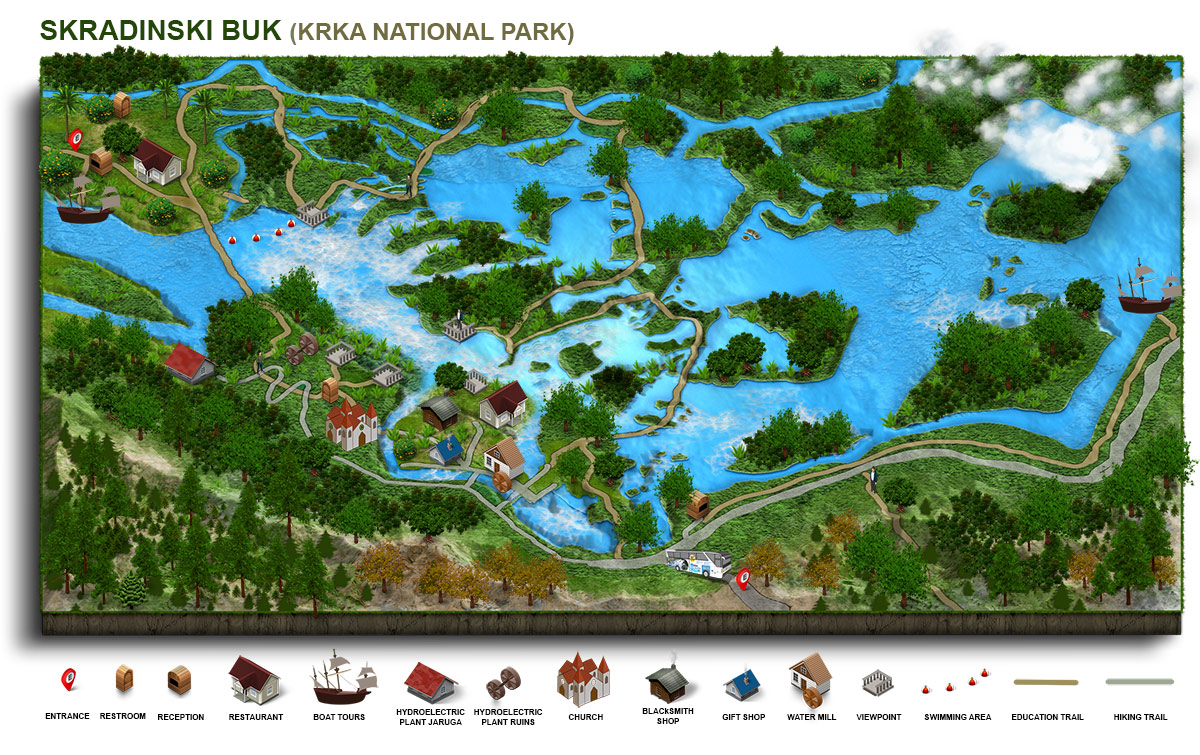 Once all is said and done, we'll have you picked up and on the way to Split in the same lavish way you arrived. And the best part? You'll be back with plenty of time for dinner.
What attractions will you visit inside Krka National Park?
After the scenic boat ride from Skradin, which is an experience in and of itself, the first attraction you'll see is Skradinski buk.
We're sure you've seen this waterfall published, posted, and plastered everywhere from Instagram to the pages of tourism magazines, but did you know that it is the largest travertine cascade system in Europe?
You'll enjoy an hour-long expertly guided tour of the famous waterfall, where you'll also walk along the educational paths of the park, learning everything from how the Krka river maintained a healthy life in the area throughout the centuries to how historical remnants like stone houses and watermills have transformed into souvenir shops and exhibition spaces.
Once the guided tour is over, you can explore the park at your will.
Can you swim inside Krka National Park?
Yes, yes, Krka National Park allows visitors to swim ONLY in the clearly marked bathing areas. Skradinski buk is one of them!
What do you need to bring to Krka National Park?
Ah, the essentials! Anyone touring Krka should first and foremost be wearing a comfortable pair of shoes, as you'll be doing quite a bit of walking. And because we know you'll want to swim, don't forget a swimsuit and towel!
It would be silly to forget a camera, but we know that smartphones are the way of the world these days. Since you'll be snapping photos left and right, be sure you have an external charger with you.
Other park essentials include water, a scarf to cover your shoulders if you decide to visit the Franciscan Monastery, SPF, hats, sunglasses, and anything else you might find that could protect you if you're visiting in the summer season.
Pro tip: if you have water shoes, they are not a bad idea to have handy – swimming in the Skradinski buk area is a bit slippery!
What if you get hungry at Krka National Park?
If you get hungry at Krka, don't fret! Right next to Skradinski buk's grassy area, which you'll find dotted with park visitors, are food stalls selling everything from sandwiches, salads, and hot dogs to ice cream, cold drinks, coffee, and items off the grill. Be sure to have cash ready, as most places will not accept cards!
You will also run into a few restaurants within the park, and if you visit Roški slap in the summer, you'll find a small ethno-village where you can have lunch.
If you're looking for something a bit more authentic, you'll usually run into groups of Croatian women selling their proud products like dried figs, nuts, and sweets. Typically parked above Skradinski buk, consider this your reward for making it to the top.
Can you get souvenirs from Krka National Park?
Yes, you can – and you can find a few of them within the park. Perhaps the more famous souvenir shop is located at the old mill on Skradinski buk, which offers a selection of old and modern souvenirs like replicas of objects to videos and books about the park.
There is also a souvenir shop at Roški slap, which acts as an information and presentation center where visitors can catch a film about the park and even take a virtual tour through it.
The souvenir shops remain open in line with the park hours.
When is the best time to visit Krka National Park?
Perhaps the hardest question to answer is when you should visit the park, because if you ask us, there is no wrong time! While the summer months tend to be crowded, the waterfalls act as the perfect refresher for those blistering hot days. The spring and autumn months will see a far less crowded park and still temperate weather, while the winter will present wonderland scenes you'll be hard-pressed to find anywhere else in the world!
Krka National Park rules
While you already know that you can swim only in the park's designated areas, it might also be helpful to brush up on some of the other park rules before your visit.
For instance, visitors are not allowed to:
You should also be aware that drones or other aerial equipment are not allowed in Krka National Park.
Best way to get to Krka National Park from Split?
As we mentioned earlier, Krka National Park is about 90 kilometres away from Split, so just over an hour-long drive.
You could rent a car to get to Krka, though car rental prices in the peak season are pretty unfriendly, and you could forget about stopping in Trogir along the way – you'll never find parking, and if you do, it'll break the bank!
You could also grab a bus to Šibenik, though this option takes around 2.5 hours thanks to a leisurely coastal route, is usually crowded and doesn't even get you directly to the national park (you'd have to transfer buses to Skradin).
But there is no reason to panic, because getting to Krka doesn't have to be hard. With our tour, you're there in no time, enjoying the comfort of air conditioning, WiFi, and the luxury of a minibus. And you still get to see Trogir along the way, without the pains of parking!
Our Krka National Park tour is your chance to enjoy nine hours blissfully in awe of the gems Croatia offers, from Trogir to the national park. Now, are you ready to chase some waterfalls with us?