Speedboat Trips from Split
Speedboat trips from Split are a perfect way to explore many of the nearby islands with their beaches, culture and attractions in a single day. Very often you will experience more of the traditional Dalmatian way of life in a single day on a speedboat tour than you would on a seven day vacation to Split from where you would need to take a ferry to all those destinations. Even then, many of the attractions and locations from our tours would remain hidden from you as these locations are not easily accessible and more than often you'll need to get there by a small boat as that is the only way to discover them.
Blue Cave and Hvar Speedboat tour
So, for example, on our signature speedboat tour to Blue Cave and Hvar you will visit six of Split's islands and their numerous attractions. If you don't believe us let's review them. First you will go from Split to island Bisevo where you will enjoy in the beauty of the Blue Cave. After Bisevo you will cruise the south side of island Vis where you will enjoy in the magnificent rock formations before you reach Stiniva cove for a swimming break where you will swim through the Stiniva gates before reaching famous beach hidden inside. After Stiniva you will go to island Ravnik where you will get the opportunity to swim and snorkel inside the Green Cave. After island Ravnik we will proceed to island Budikovac and its famous yet usually empty turquoise lagoon. From island Budikovac we continue to Pakleni islands archipelago where we will moor in Palmizana for swimming and relaxing. Finally we will visit sixth island on this tour, island Hvar and the town Hvar before we finally return to Split.
To visit all the stops from this tour privately you will need several days at least. You would also need to rent a car and small boats in order to reach every location that we visit easily by our speedboat. So when you look at it, speedboat tours are a great, if not the best, way to visit numerous islands, bays, beaches and attractions all in a single day experiencing nature, people and culture unique to each area. Our speedboat trips give you enough time to enjoy and experience all the stops along the way.
Standard Blue Cave Tour Itinerary
08:00 Departure from Split Riva
09:45 Sightseeing of Blue Cave
10:30 Exploring the Monk Seal Cave
11:15 Swimming and snorkeling in Stiniva Cove
12:00 Swiming break at Island Budikovac
13:15 Free time in Palmižana
16:00 Free time in Hvar Town, free wine tasting
19:00 Arrival to Split
---
Duration: 10 Hours (approx.)
Destinations/Attractions: Blue Cave, Monk Seal Cave, Stiniva Cove, Budikovac Island, Hvar town, Palmižana Bay
Book Your Speedboat Trip from Split
Blue Lagoon and Trogir Speedboat Tour (Half Day Tour)
Besides full day speedboat trips from split, you can also choose to get away on a half day speedboat tour. Our fast and powerful speedboats can take you far away from busy city streets to secluded bays and beaches in no time. This way you can experience true island vacation and be back in Split by the lunch time. Besides swimming, snorkeling and sun bathing we also provide you with the opportunity to experience rich culture and history of some of the coastal cities in Dalmatia. If you have ever visited city of Trogir in summer, by car, you know how much patience and skill you need to have to wait for the traffic and find a parking space before experiencing this ancient city.
On our half day speedboat trip from Split, after swimming inside the lagoon, snorkeling and sun bathing, we go on a short ride to Trogir where we moor right on the old town sea promenade from where you can start to explore the city immediately.
Blue Lagoon Tour Map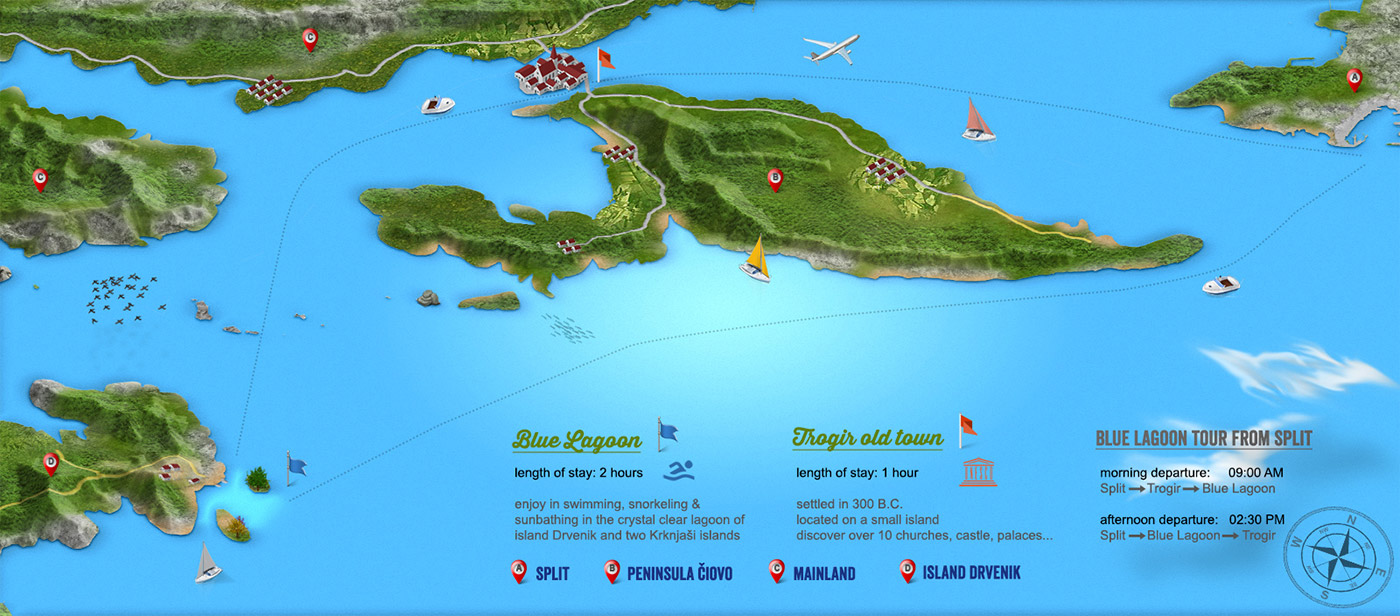 Standard Blue Lagoon Tour Itinerary
09:00/14:30*  Departure from Split Riva
09:40/15:10*  Arrival in Blue Lagoon
11:40/17:10*  Departure from Blue Lagoon
12:10/17:40*  Arrival in Trogir, free time
13:45/19:00*  Departure from Trogir
14:15/19:30*  Arrival to Split
*half day tour-operates in the morning and afternoon
---
Duration: 4 Hours (approx.)
Destinations/Attractions: Blue Lagoon, Trogir
Blue Lagoon, Hvar and Trogir Speedboat Tour (Full Day)
Ful day tour from Split to Hvar, Pakleni islands, Šolta island, Blue Lagoon and ultimately old town of Trogir came as a reply from our customers who wanted to see both Hvar and Blue Lagoon in a single day. We believe this tour has encompassed everything our guest can wish to see from Split's islands. From the remarkable beauty and charm of the town Hvar, with its stone streets and Fortica fortress towering above the town, to the swimming paradise in the turquoise waters of Pakleni islands archipelago. We take you to lunch in the quiet bay of Solta islands from where you head straight to the Blue Lagoon, the swimming and snorkeling paradise. The tour end with the late afternoon walk through the streets of old town Trogir, UNESCO World Heritage Site.
Tour Map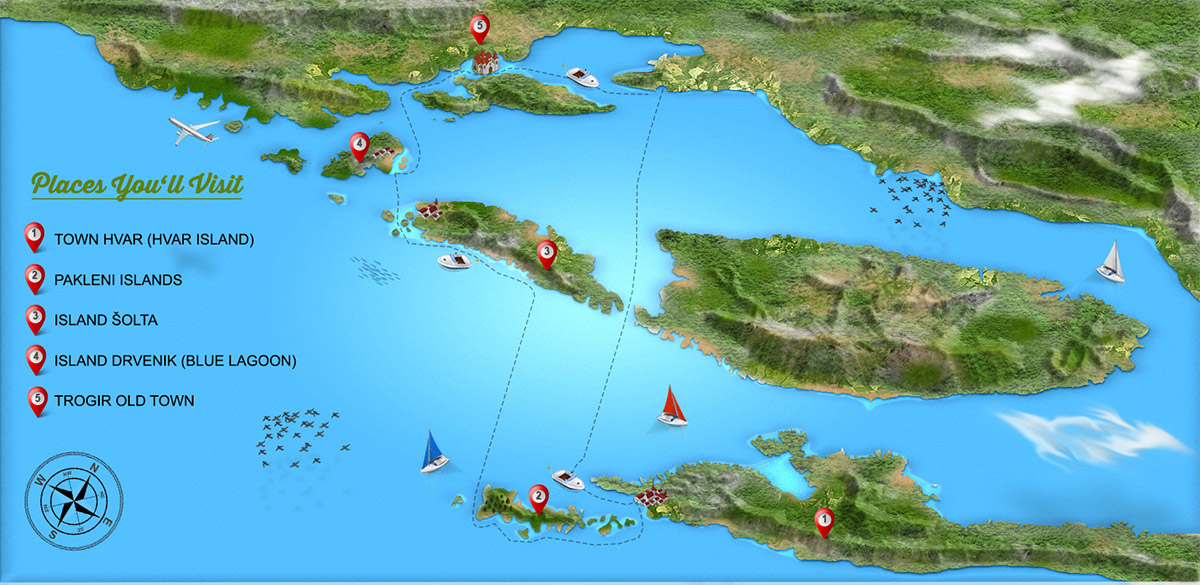 Standard Tour Itinerary
08:30 Departure from Waterfront in Split
09:30 Free time in Hvar town
11:30 Swimming and sunbathing on Pakleni islands
13:00 Free time and lunch at Solta island
15:00 Swimming and snorkeling in the Blue Lagoon
16:30 Free time to explore the old town of Trogir
18:30 Arrival to Split
---
Duration: 10 Hours (approx.)
Destinations/Attractions: Hvar, Pakleni islands, Solta island, Blue Lagoon, Trogir
Besides renting a seat on a speedboat on our daily speedboat tours from Split which follow a set itinerary, you also have the opportunity to hire our speedboat with a skipper privately. By taking a private speedboat trip from Split you get the opportunity to visit and experience all the locations on the nearby islands which interest you.
If you don't know what you wish to see and experience we have prepared for you a couple of private speedboat tour templates which you can use as a base on which you can build on for your private speedboat tour.