Palmižana, Pakleni islands
Palmižana is a small settlement on Pakleni islands near island Hvar. Palmizana is a local name for island St. Clement which is a part of Pakleni islands archipelago stretching all the way to Hvar town on the island of Hvar. Its many bays and hidden beaches has been a magnet for many travelers visiting Croatia and its hidden pearls located on the Adriatic sea.
On the north side of Palmizana and St. Klement island you will find ACI Marina, in case you are arriving to Palmizana in private arrangement. If you are arriving during peak summer season, call in advance ACI Palmizana on 021 744 995 to reserve your spot inside a marina.
On the south side of the island, inside the Vinogradišće bay, you will find a popular Palmizana resort, dominated by the immense beauty of numerous trees and plants, restaurants, bungalows, crystal clear sea and sandy sea bottom.
When talking about Palmizana resort, one must mention the Meneghello family who are the island residents for over a century. They are running two restaurants on the island located in a breathtaking and authentic setting. They are also responsible for a botanical garden you can visit, featuring plants from all over the world.
The food in Palmizana restaurants is simply a must try as each restaurant provides fresh and local ingredients prepared in traditional yet modern way.
Palmizana is also a home of a renowned Laganini Lounge bar with a variety of cocktails you can enjoy. Laganini is also the place where you can experience exotic fish cuisine for a top gourmet experience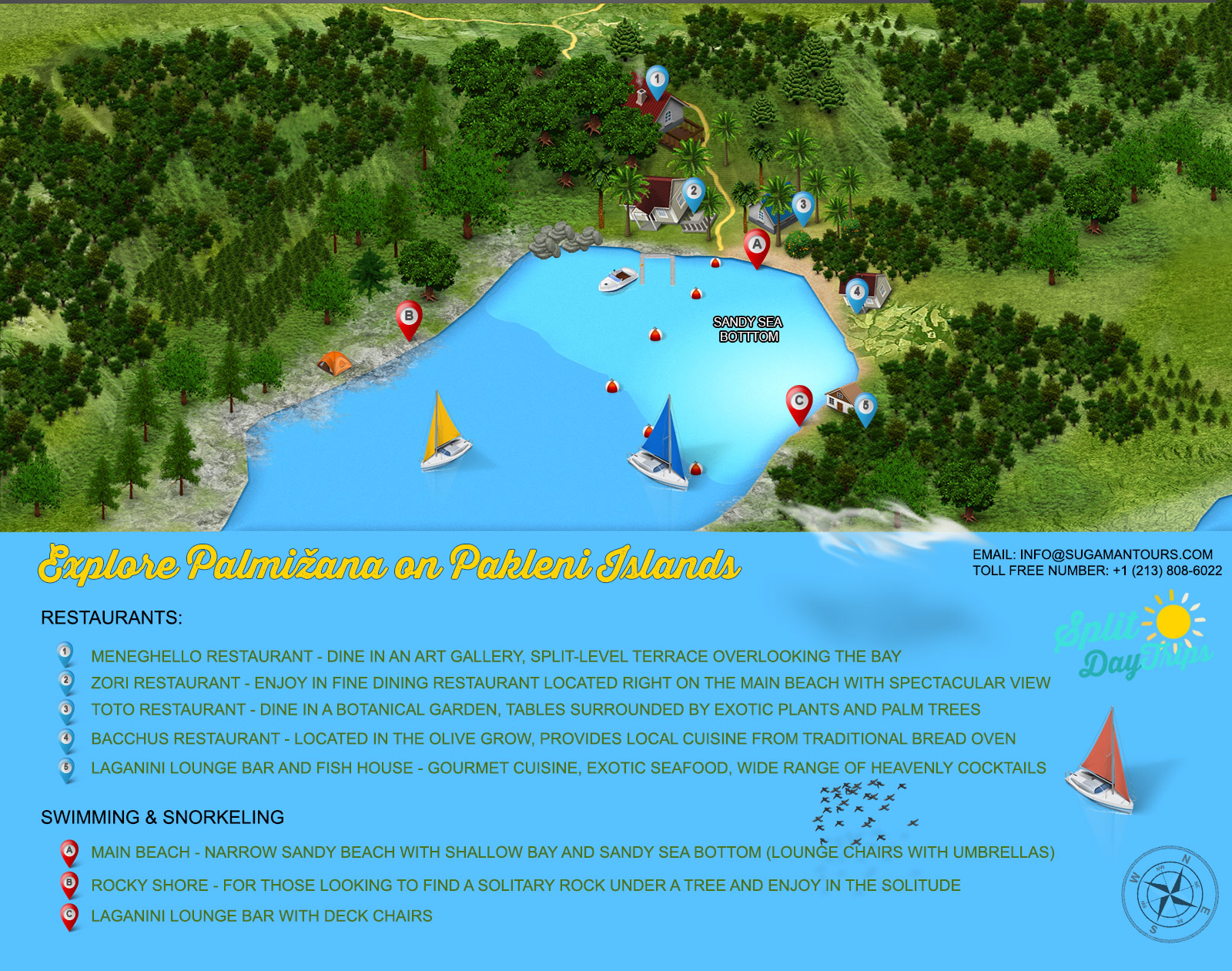 How to get to Palmizana
Palmizana is located on island St. Klement which doesn't have ferry connection to the coast, meaning you can not take a ferry boat to reach it.
Palmizana is the prime location for people chartering yachts and sailing boats as the north side of the island provides an ACI Marina. It is also a frequent stop for day tours as it is simply a breathtaking destination.
Getting from Hvar to Palmizana
Many visitors to Hvar decide to spend a day out in the Pakleni island archipelago. Even though the clear sea on Hvar beaches is mesmerizing, the call from the nearby archipelago cannot be ignored.
Inside the Hvar harbor you will see different water taxi boats departing to different islands of the archipelago. Make sure to take the water taxi departing to Palmizana. Also, it is important to memorize the departure times of the taxi boat from Palmizana to Hvar as there will not be many options to leave Palmizana in case you miss the boat.
If you own a valid license you can rent a boat in Hvar and take a short ride to Palmizana exploring many bays and island channels on your own.
Getting from Split to Palmizana
There are no ferry boat or catamaran lines to Palmizana directly, so to reach it from Split you can take either a ferry boat or a catamaran to Hvar town. From Hvar you can get to Palmizana with taxi boat or a boat rental.
In Split you can find different charter agencies where you can rent sailing or motor boat in all sizes. You can moor a boat in ACI Marina if you plan to stay the night or inside Vinogradišće bay if you plan to enjoy Palmizana and move on later in the day. Keep in mind that boats are usually chartered for a 7 day period so if you plan for a shorter trip you need to look for a boat well in advance.
Palmizana is also a stop where we stay for two hours on our signature Blue Cave and Hvar tour. You can take a daily tour from Split, experience Palmizana and visit many more attractions on different islands near Split.
We also provide a private transfer service for up to 10 people with our speedboats and you can always contact us to arrange private transportation.
Speedboat tours to Palmizana
Palmižana Botanical Garden
The tourism on island Palmizana started by the family Meneghello over one hundred years ago and they are the main reason for the rise in popularity of this location.
The first thing you will notice when you arrive in Palmizana is its rich plant life and green nature all around you. This is also thanks to Meneghello family who have started bringing plants from all over the world and planting them in Palmizana creating breathtaking botanical garden.
The natural setting, beautiful plants all around with birds and crickets fulfilling the air with sound and unparalleled view of the bay with yachts, boats of all sizes and beach bungalows all around is the perfect setting for some of top Palmizana's restaurants.
[ess_grid alias="meneghello"]
Experience Mediterranean Cuisine
As stated by the number of foreign newspapers, Palmizana is one of the best places to experience and enjoy in the true Mediterranean cuisine. Fish and seashells that you order in the restaurant on Palmizana island are brought to your plate "right from the sea". You can see local fishermen each day as they bring their daily catch to the restaurant chefs. The area of Pakleni islands archipelago is brimming with all kinds of fish so you are always presented with the fresh local fish usually caught on that same day.
[ess_grid alias="meneghello-slika"]
Restaurant Meneghello
Located on a hill overlooking the Vinogradišće bay this restaurant is great place to relax in a unique art setting and enjoy in the top quality Mediterranean cuisine.
[ess_grid alias="zori"]
Zori Restaurant
Located right on the main beach in Palmizana, Zori restaurant is a place where you can enjoy in the fine dining. The location of the restaurant adds extra value to the experience.
[ess_grid alias="toto"]
Toto Restaurant
Another restaurant operated by Meneghello family, in Toto restaurant you are sure to taste local cuisine in an incredible setting. Dining tables are surrounded by palm trees.
[ess_grid alias="laganini"]
Laganini Lounge Bar
Laganini Lounge Bar and Fish House is operating for over 50 years on Palmizana and has become a must visit spot for resort holiday enthusiasts for its great seafood offer and must try cocktails.
Besides botanical garden, beautiful clear sea with sand on the bottom, beaches and beach bungalows, great restaurants to taste true Dalmatian cuisine, Palmizana also has a lot of trails leading through the island allowing you to discover almost every corner of it by foot.

Palmižana is teeming with all kinds of boats during the summer, particularly in July and August, as it provides unique and unforgettable marina. If the main bay of Palmizana is too crowded for your taste, there are hidden bays waiting to be discovered only a short walking distance away.
Explore with us all the villages that scream of long-lasting culture and which have many stories to tell if you want to listen. In case you are looking for exciting nightlife, you're in the right place and with the right organizers.
We can provide a boat transfer for you to enjoy all night parties. Join us for the time of your life!