Pakleni Islands – Small Gems Off the Dalmatian Coast
A short distance away from Hvar Island are the Pakleni Islands. In fact, they are so close that you can see them directly from Hvar town, the main tourist hub on the popular island. This is the reason why they are considered to be part of the so-called Hvar Riviera. They are often mistakenly called Hell's Islands given that the Croatian word for hell is pakao, but there is nothing diabolic about them. Their name comes from a type of pine resin, which was once harvested on the islands and used for coating ships – paklina. Let's explore them one by one.
What Each Island Has to Offer
One important thing to keep in mind about these islands is that they are a lot less crowded and much quieter compared to the major tourist destinations on Hvar Island. They are ideal for those who want to unwind fully. The islands are great for romantic escapes too.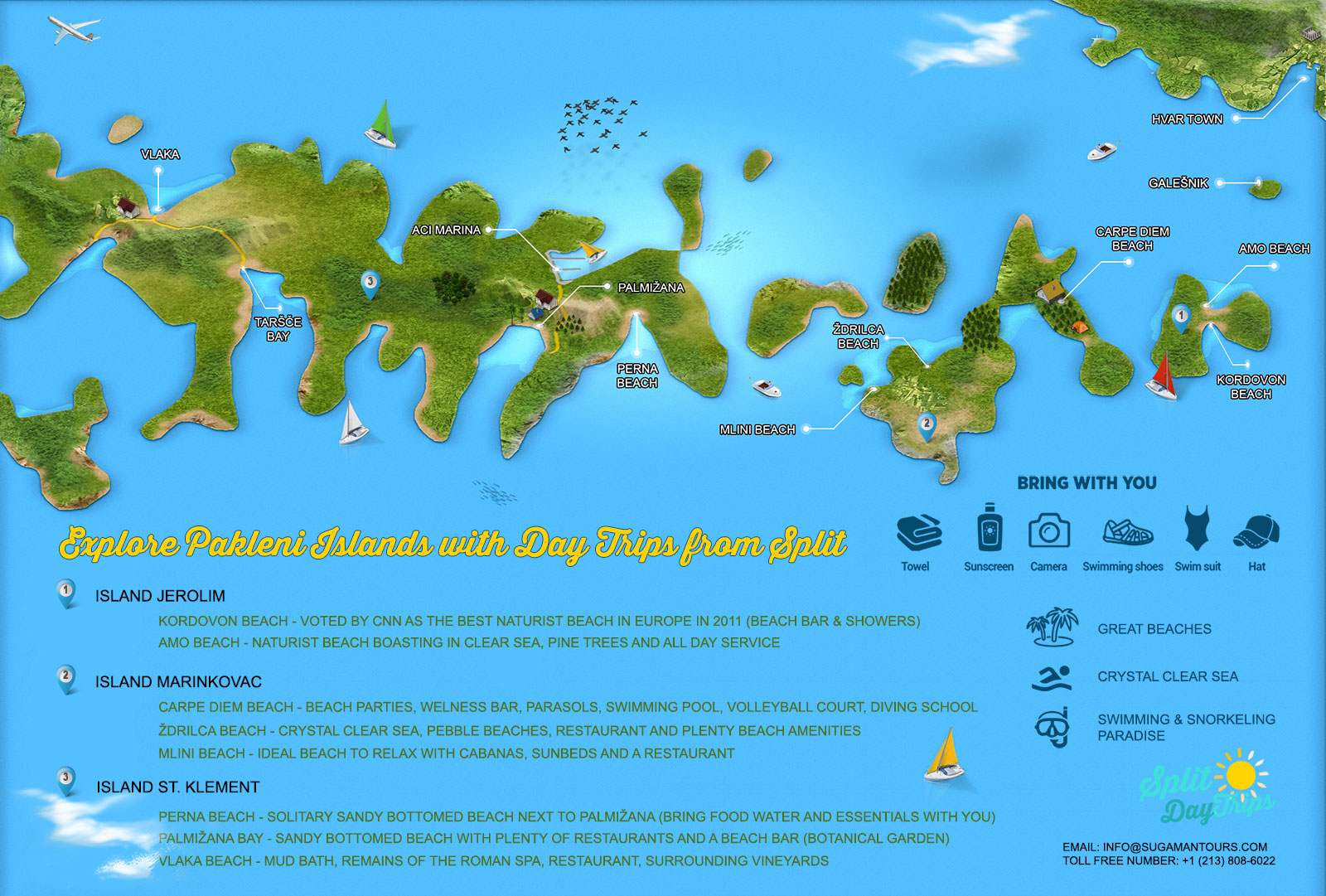 Things to do on Pakleni Islands
Lets look into where to go and what to do on the inhabited islands of Pakleni Islands archipelago.
ISLAND GALEŠNIK
The closest island to the Hvar port is the ideal place if you want to escape the buzzing Hvar town and enjoy at the view of the port and Fortica fortress in front of you. This small island houses a restaurant placed in the former military building offering the wine tasting and home made dishes eco-ethno cuisine with the unparalleled view of the Hvar town.
There is nothing more satisfying than eating a local specialty and sipping wine produced in the region with the waves splashing just a few meters away from you. Don't be surprised to see Mercedes the Donkey walking along the beach. Both kids and adults love taking pictures with it.
[ess_grid alias="galesnik"]
---
ISLAND JEROLIM
Just behind island Galešnik you will find island Jerolim. Jerolim is a great island for relaxing and getting active in pristine natural surroundings. It has gorgeous beaches and is a favorite of naturists. If you plan to put swimwear on, Amo Beach is the most straightforward choice. Otherwise, you may want to explore some of the most secluded ones which are within short walking distance.
[ess_grid alias="jerolim"]
Amo Beach
If you take a taxi speedboat from Hvar on a 5 minute ride, you will get to the Amo beach on Jerolim island. Amo beach provides excellent amenities and an all day restaurant service. You can enjoy in the privacy and an excellent service.
[ess_grid alias="amo"]
Kordovon beach
On the other side of Amo beach, some 50 meters walk, you will find the Kordovon beach. Another naturist paradise, Kordovon beach was voted as the most beautiful naturist beach in Europe by CNN in 2011. The beach offers showers and a restaurant.
[ess_grid alias="kordovon"]
---
ISLAND MARINKOVAC
The picturesque Marinkovac Island is best-known for Stipanska Bay which is an awesome place to unwind and marvel at the natural beauty. Another inlet you can visit is Zdrilca which has some secluded pebble beaches. This one of the Pakleni Islands is home to some of the best night clubs not only in Dalmatia, but in the whole of the Adriatic. If you want a party in a luxury setting with a five-star service this is the place to go.
Carpe Diem Beach
Located in the Stipanska bay, favorite amongst naturists, Carpe Diem Beach provides beach parties from sun up till late into night. Enjoy in the many amenities this beach club provides and don't miss out on their famous fool moon party.
[ess_grid alias="carpe-diem"]
Ždrilca bay
Ždrilca bay on Marinkovac island is popular bay with couple of beautiful pebble beaches ideal for relaxation and enjoyment in the summer season. The bay is easily accessible by a water taxi from Hvar. You can also enjoy in the great local cuisine at the beach restaurant.
[ess_grid alias="zdrilca"]
Mlini Beach
Located in the bay of Ždrilca this beach is favorite among local population. This beach has some amazing views, beach bars and is a true swimming and snorkeling paradise.
[ess_grid alias="mlini"]
---
ISLAND ST. KLEMENT
The largest island of the Pakleni Islands archipelago is the island of St. Klement. St. Klement island has a number of beautiful spots but we will single out three of our favorites.
Perna Beach
Located just a bay away from Palmićana this little beach offers a place to get away. This sandy beach is a perfect location to swim and snorkel, enjoying to the fullest the crystal clear sea. There are no amenities on the beach so make sure to bring food, water, sun protection and other essentials with.
[ess_grid alias="perna"]
Palmižana bay
Palmižana is the most popular destination of St. Klement island and for a reason. This deep bay provides something for everyone. The most popular part of the bay is at its basin where the main beach is located. The sandy sea bottom and a shallow water makes this place ideal for families with children. You will find a couple of restaurants on the islands, all serving high quality local cuisine, and even an arboretum planted almost one hundred years ago.
You can get to Palmizana by taxi boat from Hvar Island which departs from port in Hvar town.
Palmizana has been a tourist destination for over a century now. There is a marina for mooring your boat if you choose this mode of transport. In addition to the gorgeous sandy beaches and lush pine forest, you can explore Meneghello estate which has its own arboretum and art gallery. Some of the best restaurants and bars in the local area are found on this island, with each one offering a unique setting and diverse cuisine.
[ess_grid alias="palmizana"]
On the right side of the bay you will find a popular Laganini beach bar where you can relax on a sun deck with a cocktail in hand.
Vlaka Beach
More familiar to the locals, Vlaka beach is located on the north side of the St. Klement island. This pristine bay provides unique experience settled by the vineyards, mud bath used for healing by locals and the remains of the ancient Roman spa.
---
Day Tours to Pakleni Islands
Are you asking yourself what is worth visiting while in Split? Away from the city, the most beautiful group of islands in the area is not far with one of our speedboats. Discover forest-covered islands immersed in crystal clear water. Leave the bustle of Split and escape into the hidden coves. We can take you to the simply gorgeous Palmižana bay, an ideal place for relaxing on the sandy beach while tasting some local specialities. In case you wish to visit an ancient urban centre after the relaxing time on the Pakleni Islands, don't worry. The island of Hvar is only a blink of an eye from here, where many other interesting experiences await you.
Activities to Enjoy
Scuba diving is one of the major attractions that Pakleni Islands have to offer. The waters off the coast of the small island of Stambedar, near Palmizana, are the most popular with divers visiting Dalmatia. There you will be able to discover the natural wonders of Vodnjak reef. It has sponges and algae in all the colors of the rainbow and lots of diverse fish.
Kayaking is another popular water sport in this area. This is a fantastic way to discover secluded coves and beaches. The activity is more than relaxing and enables you to explore various awesome places at your own pace.
It seems that the Pakleni Islands were created for island hopping. They are closely packed together and aren't very big. You can take a day trip around all of them to marvel at the beautiful nature.
Organizing Your Trip
There are several ways to reach Pakleni Islands from the Town of Hvar or Split. You can take the passenger ferry from Hvar which has stops on the biggest islands and namely Palmizana, Marinkovac and Jerolim. It's also possible to take a water taxi that will drop you off exactly where you want.
Another option is to hire a boat and to explore the islands at your own pace. Alternatively, you can take an organized tour. The best time to visit the islands is in the summer when all restaurants, bars, cafes, shops and attractions are open and welcome tourists.
Where do you want to go on Pakleni Islands?