Fruit Square in the Split Old Town – Discover the Beauty of Croatian Culture and History
There are various amazing attractions to visit in the Old Town of Split, Croatia and Fruit Square is definitely one which you should not miss. It is considered to be one of the most beautiful not only in the city, but in the entire region because of the splendid Baroque architecture of the buildings that surround it. Enjoy a variety of experiences in this truly special place.
Where Did Fruit Square Get Its Name from?
The official name of this significant site is Trg Brace Radic or Radic Brothers' Square. It got its nickname Vocni Trg or Fruit Square because people from the villages in the surrounding area used to sell their fruit and vegetables there. Now there are no stalls, but you can still enjoy a fruit salad or a smoothie prepared with fresh local produce. You can get spoilt just like Emperor Diocletian was when he lived in his palace, which Split grew from.
Things to See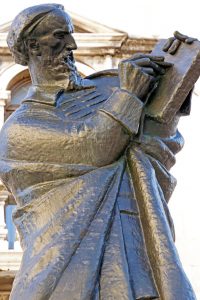 Fruit Square is equally gorgeous and welcoming during the day and in the evening when the gentle light makes it one of the most romantic places in Split's Old Town. If you want to see the architectural details of the Baroque buildings that surround it, you'd better visit it when there is plenty of sunlight.
The octagonal Venetian tower is one of the oldest buildings around. It was built in 1435 as part of a fortified building and served as a watch tower for over three centuries. While it has lost its importance for the defense of the people living in the city, it's still a marvelous example of a heroic past.
Milesi Palace is perhaps the most famous building on Fruit Square. It was built by the noble Milesi family that came from Italy and served as their residence for centuries. Now it is a major tourist attraction which you should definitely include in the itinerary for your holiday in Split, Croatia. Its triangular shape is bound to make a lasting impression on you. The arched entrances and windows give the building a unique charm. It's easy to imagine how the doors to the small balconies would open and a noble lady would take a quick peak of what is going on around the piazza below.
The statue of the famous poet and humanist Marko Marulic on the square is small, but you simply cannot miss it. It seems to cast a spell on visitors. This 15th century enlightener is regarded as the father of Croatian literature because he was the first poet to use the Croatian language for writing his works. The monument is a work of the country's most famous sculptor Ivan Mestrovic.
Things to Do
There are fantastic cafes, restaurants and shops dotting Fruit Square. You can have a cool drink when the sun is shining brightly and you have to take a break from your sightseeing tour around the Old Town of Split. While there is great coffee, a fruit juice or a smoothie can match both the square name and your need for hydrating and reenergizing your body. You can just sit back, relax and enjoy the historic buildings that surround you. You can feel like royalty.
The small restaurants on the square have a welcoming atmosphere and delicious food. There are great places for a quick lunch and for a romantic dinner. You will discover that the offerings on the menu are quite diverse. It's a good idea to try the fish and seafood dishes that the Adriatic city is famous for. If you prefer red meat, you may want to try a lamb dish with aromatic local herbs. There are also plenty of risotto and pasta dishes to pick from if you are not that much into experimentation.
The chic small shops on Fruit square are popular with both locals and tourists. You can buy jewelry, accessories and fine clothing from local and global brands. Many visitors choose to take home a tie as this staple accessory was actually invented in the country. Isn't this fun?
Even if you may plan to spend a few minutes in Fruit Square, they can easily turn into hours. This place in the Old Town of Split can easily bewitch you.
More Diocletian Palace Attractions